Diabetes is a life-long condition that can seriously reduce quality of life
and lead to early mortality if not managed properly. Type 1 diabetes cannot be prevented. 70% of Type 2 diabetes cases can be prevented or at least delayed; as can 60% of diabetes-related complications in either type.
Diabetes in adults
Diabetes is a worldwide pandemic. As at the end pf 2017, over 425 million adults (20-79) are living with diabetes and another 352 million with pre-diabetes which means they face higher risk for Type 2.
In Canada, over 5 million adults are living with diabetes and an estimated 6 million have pre-diabetes.
Diabetes prevalence in Simcoe Muskoka has actually been rising at a faster pace than the Province as a whole (ICES 2011)
Diabetes in children and youth
It is estimated that worldwide over 1.1 million children and youth age 19 and under have Type 1 diabetes. No one knows how many children and youth have Type 2 diabetes but there is wide agreement the numbers are escalating due in part to overweight/obesity and inactive life-style.
Type 2 diabetes is initially invisible and is progressive. At time of diagnosis, cell damage can be in progress. It is estimated that 40% of those with Type 2 diabetes do not know they have the disease.
Taking action
Raising awareness, helping youth and families to understand how to reduce their risk of youth-onset Type 2 diabetes and encouraging early testing are the practical weapons available in the fight against diabetes.
Our diabetes awareness and prevention campaign is focused on youth-onset Type 2 diabetes and complications in both types.
We are asking families, teachers, schools, health care providers, employers and municipalities to join with us to help prevent Type 2 diabetes in our children and youth.
How you can help?
Families
Consider having your children tested for diabetes. As a start, you can use our online, self-scoring risk questionnaire for youth and seek testing from a healthcare professional if the score indicates a need
Increase your knowledge of diabetes by taking our short, free eLearning course, Understanding Diabetes
Schools & Teachers
Hold a school-wide Diabetes Awareness Day
Promote healthy eating and modest daily exercise for all students
An example for all schools to consider: Banting Memorial High School in Alliston, Ontario has launched a '100 for 100' challenge for students, staff and families to make a 100 day pledge to practice healthy living in honour of the discovery of insulin. Examples of pledges made include to cycle 5 km, or to walk 6 km or to eat a healthy breakfast daily for 100 days.
Schedule a School Tour for your class to our Diabetes Management & Education Centre at the historic birthplace of Sir Frederick Banting, co-discoverer of insulin and Canada's first Nobel Laureate
Advocate for in-school support programs for students with diabetes
Employers
Ensure your Workplace Wellness program includes diabetes prevention
Post our informative Info-graphics in your workplace
Encourage your employees to have their families tested for diabetes
Add a supporting Prevention Campaign page to your website
Municipalities
Post our informative Info-graphics in your public spaces; libraries, recreation centres, municipal offices
Encourage your staff to have their families tested for diabetes
Add a supporting Prevention Campaign page to your website
Healthcare providers
Encourage your patients to get tested for diabetes
Post our informative Info-graphics in your reception area
Pharmacies
Post our informative Info-graphics in your premises
Provide a diabetes testing service for all family members
Share your action with us
Please help us track the actions taken by you or your organization in support of our Campaign. Send an email to prevention@bantinglegacy.ca with a brief description of your event or initiative. We will add it to our list of of county-wide actions.
Key Questions for you with responses available on this website
Do you know the risk factors for youth-onset Type 2 diabetes?
Are you at risk?
Youth: Type 2 Risk Self-Assessment Questionnaire for Youth (8 – 18) (bantinglegacy.ca/survey)
Adults: Take the CanRisk survey (http://bantinglegacy.ca/diabetes-risk/)
Do you know what it is like to live with diabetes?
Do you understand the impact of diabetes?
Does your school have a support program for students with diabetes?
Does your Workplace Wellness program include a focus on diabetes prevention?
Take advantage of our educational tours at the historic birthplace of Sir Frederick Banting.
Infographics
The following outlines the media resources (Infographics) that are available for partner organizations who wish to promote prevention and awareness about diabetes in schools, organizations and/or workplaces across Canada. These assets are available to any organization upon request.
Start by selecting the appropriate format(s), use the item number to select the Poster(s) or Handout(s) or both and the quantity you wish to receive using our list of assets as described below, add your mailing information as well as your individual contact info and send us an e-mail with your request to info@bantinglegacy.ca
We will print and mail the requested assets to you, for use within your organization as we move towards a celebration of the 100th anniversary of the discovery of Insulin by Sir Fredrick Banting
Web Site Infographics are also available to post on your webs site(s). These include surprising and unique comments from grade 12 students about how diabetes can affect a student's life at school life. These will be sent to you electronically, upon request.
Funding for printing of Infographics has been provided by 
In Schools
1. A Day in The Life – A Student With Diabetes
Handout 8.5" x 11"
Poster 18" x 24"
---
2. My Diabetes Support Devices
Handout 8.5" x 11"
Poster 18" x 24"
---
3. Four Issues: Comments received from Grade 12 SFBLF Education Award Winners living with diabetes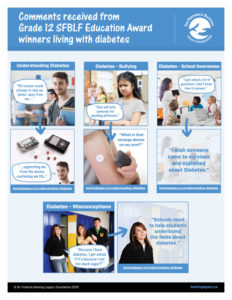 Handout 8.5" x 11"
Individual Web optimized infographics for use on your web site
---
Awareness & Prevention
4. Diabetes by the Numbers: A Concern for All
Handout 8.5" x 11"
Poster 18" x 24"
5. Fight Diabetes at School – Here is How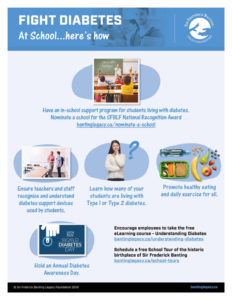 Handout 8.5" x 11"
Poster 18" x 24"
---
6. Fight Diabetes at Home
Handout 8.5" x 11"
Poster 18" x 24"
---
7. Fight Diabetes at Work
Handout 8.5" x 11"
Poster 18" x 24"
---
8. Diabetes Concerns Every Youth
Handout 8.5" x 11"
Poster 18" x 24"
---