Overview
With the help of donors, partners, volunteers and service providers, we have achieved our basic goal of rescuing/adapting historic buildings and adding essential site infrastructure in order to preserve a major Canadian legacy. Together, we have created a unique, educational, inspirational Canadian backdrop against which to pursue our Fight Diabetes programs. This 107-acre historic site is the birthplace of Sir Frederick Banting, co-discoverer of insulin and Canada's first Nobel Laureate.
Over $2 million has been invested in projects to achieve this outcome. Major gifts-in-kind have augmented that value. The timeline of Major Projects Completed is provided below.
The resulting Diabetes Management and Education Centre (DMEC) complex is a welcoming venue for people living with diabetes and all Canadians and visitors from around the world. The evolution of our Diabetes Management and Education Centre (DMEC) complex will continue as we add capability to facilitate Program delivery and enhance exhibits.
We need help with 3 remaining Projects
---
Major Projects Planned [$60k]
2017
Legacy Trail Exterior Educational Exhibits and Trees [$25k]
In 2015, we added 3 exterior information exhibits along the 
 Banting Legacy Trail to add interest and inform  Trail users  of the heritage of the site, the evolution of the complex, the escalating incidence of diabetes and how exercise can help reduce risks of contracting diabetes.
We also added 5 maple trees and 7 spruce trees. We would like to add more exhibits and more trees along the Trail.
Legacy Trail Exercise Stations [$25k]
To complement our School Tours Program and provide additional facilities for site visitors, we will add a youth exercise area along the Trail with carefully selected exercise stations.
 

Octagonal Drive Shed Upgrades [$10k]
We will add new main, weather-proof doors to ensure this venue is available for use year-round. This will complete the upgrades begun in late 2016.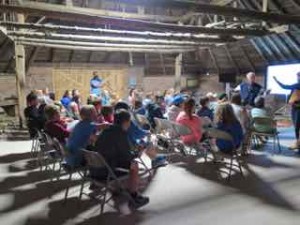 ---
Major Projects Completed
[$1.8 million + $250k Gifts-in-Kind]
2008 – 09
* Property acquisition and broad gauge master plan (Town of New Tecumseth)
2010 – 11
* New parking lot and access lane (Town of New Tecumseth)
* Octagonal Drive Shed restoration (with Lions, Rotary)
* Detailed Site Plan Engineering
2012
* Long term lease and operating agreements negotiated
* Farmhouse restoration and adaptation for public venue [PH1]
* Municipal services extended to site (water and sanitary sewer)
* Natural gas supply service extended to site
2013
* Ten year renewable exhibit items loan agreements
* Reception/Exhibit building including barrier-free access infrastructure [PH2]
* Sod replacement and new
2014
* Sprinkler system and lighting retrofits (Farmhouse)
* Major upgrade to educational exhibit displays and venues
* Legacy Gardens
2015
* Videoconferencing system installed
* Banting Legacy Trail & 12 new trees
* Legacy Garden Patio
 2016
* New exhibit in the historic octagonal drive shed
* Upgraded lighting and heating in the historic octagonal drive shed
* Worldwide release of our e-Learning course, Mental Health and Diabetes in Youth
* Developed and published our Type 2 Diabetes Risk Self-Assessment Questionnaire for youth age 8 – 18